Although this capital of Lot seems to belong to a distant past, its inhabitants and visitors never tire of the wonders it contains. In Cahors, it is hard to get bored, especially when one appreciate tranquility, nature, culture, history and mostly new discoveries. There is much to discover in Cahors, but some monuments, the very symbols of this medieval town in the modern era, are unavoidable. After the Valentré Bridge, the Saint-Étienne Cathedral is the second most visited monument in Cahors. This is one of the largest edifices with cupolas on pendentives in France.

A witness of the past and identity of the present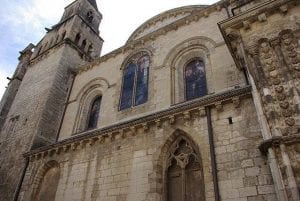 The Saint-Étienne Cathedral, built during the Romanesque period, is an important vestige of the past that has transcended time and history to become today a symbol of identity of the city of Cahors. Built between 1493 and 1553, this imposing religious building has retained over time its amazing construction, beautiful architecture and its precious ornaments.
A nave covered with two monumental Byzantine-style domes, a Romanesque portal with a sculptured tympanum, a flamboyant Gothic cloister, an extraordinary organ, and contemporary stained glass windows offering a striking contrast… no doubt, the monument deserves its place in the UNESCO World Heritage.
Saint-Étienne Cathedral : A successful blend of styles and influences
Both outside and inside, the cathedral offers a surprising mixture of Gothic and Romanesque, with some Byzantine elements, including its famous domes. Paintings, frescoes and other ornamentations recently restored with modern touches, including the paintings of the Saint-Gausbert chapel dating from the late 15th century, reflect the soul of this place of history. Note that this Roman Catholic Cathedral was in time as a fortress with military use, hence a fortified Romanesque façade is today a witness of that period.
A precious treasure chest
The Saint-Étienne Cathedral contains a priceless treasure, not only in the eyes of Christians, but also from the perspective of all kinds of people, historians, archaeologists and other scholars, and even curious people. Indeed, it houses the Holy Cap, a funeral lien that was used during the burial of Christ and brought back from the Holy Land by Géraud de Cardaillac in 1113. This relic was secretly kept in the cathedral's Saint-Gausbert chapel. But this is not the only hidden treasure of this magnificent cathedral which constitutes itself a unique jewel within the world.