Privilege Room
With an area of 31 m², the Privilege rooms will also allow you to enjoy an exceptional view over the Valentré bridge. Their panoramic windows will immerse you in the wooded landscape on the hills overlooking the river.
You will enjoy a well-ventilated room bathed in light, with all the comfort that makes it a Privilege room: 2 Dorelan beds of 100 x 200 cm or a Dorelan King Size bed of 180 cm, with a 5 cm pillow-top overlay, a bathroom equipped with a bathtub with side jet showers.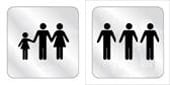 The Privilege rooms can easily accommodate three persons with the addition of an extra bed. Our extra 90 × 190 beds are equipped with the same Dorelan mattresses and are perfectly suited for an adult. Please contact us directly by phone or by email to check availability.