The Divona Cahors hotel has a nice lounge bar. It is the place where clients meet in the morning for breakfast, in the afternoon to enjoy tea with pastry and in the evening for a drink, while talking and relaxing! You will never get tired of admiring the Lot River!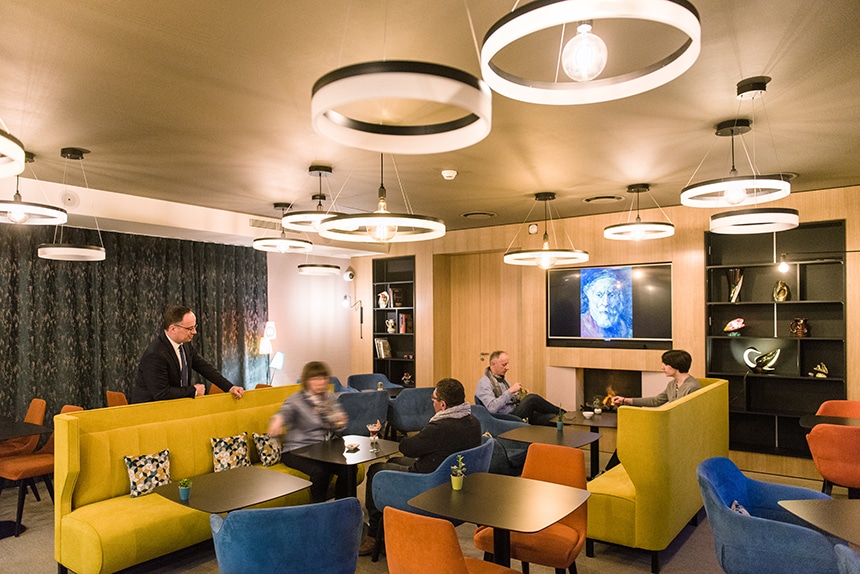 Atmosphere and deco
The lounge bar faces the green hill overlooking the Lot River. A relaxing space par excellence, you will enjoy the calmness and the sweetness of the Best Western Plus Hôtel Divona Cahors. Sofas, armchairs and stools bring the touches of colour and cheerfulness conducive to a moment of conviviality.
On sunny days, the lounge bar terrace offers an unobstructed view of the Valentré Bridge, which you can admire all day long and even beyond sunset thanks to its subtle lighting that emphasise its architectural details.
Cocktails, fine spirits and wines
Everyday from 3pm to 11pm, our cocktail barman will make you appreciate must-taste cocktails (Mojito, PiñaColada…) and their variants (strawberry or cucumber Mojito…) or rediscover great classics (Daïquiri, Dry Martini, Hemingway…).
You can also enjoy some of the world's finest whiskeys, rums and spirits.
A selection of wines from Cahors and Côte du Lot will allow you to appreciate the quality of the local vineyard.
To accompany your drinks, tasting plates or appetizers (duck foie gras, tapenades, etc.) can be offered.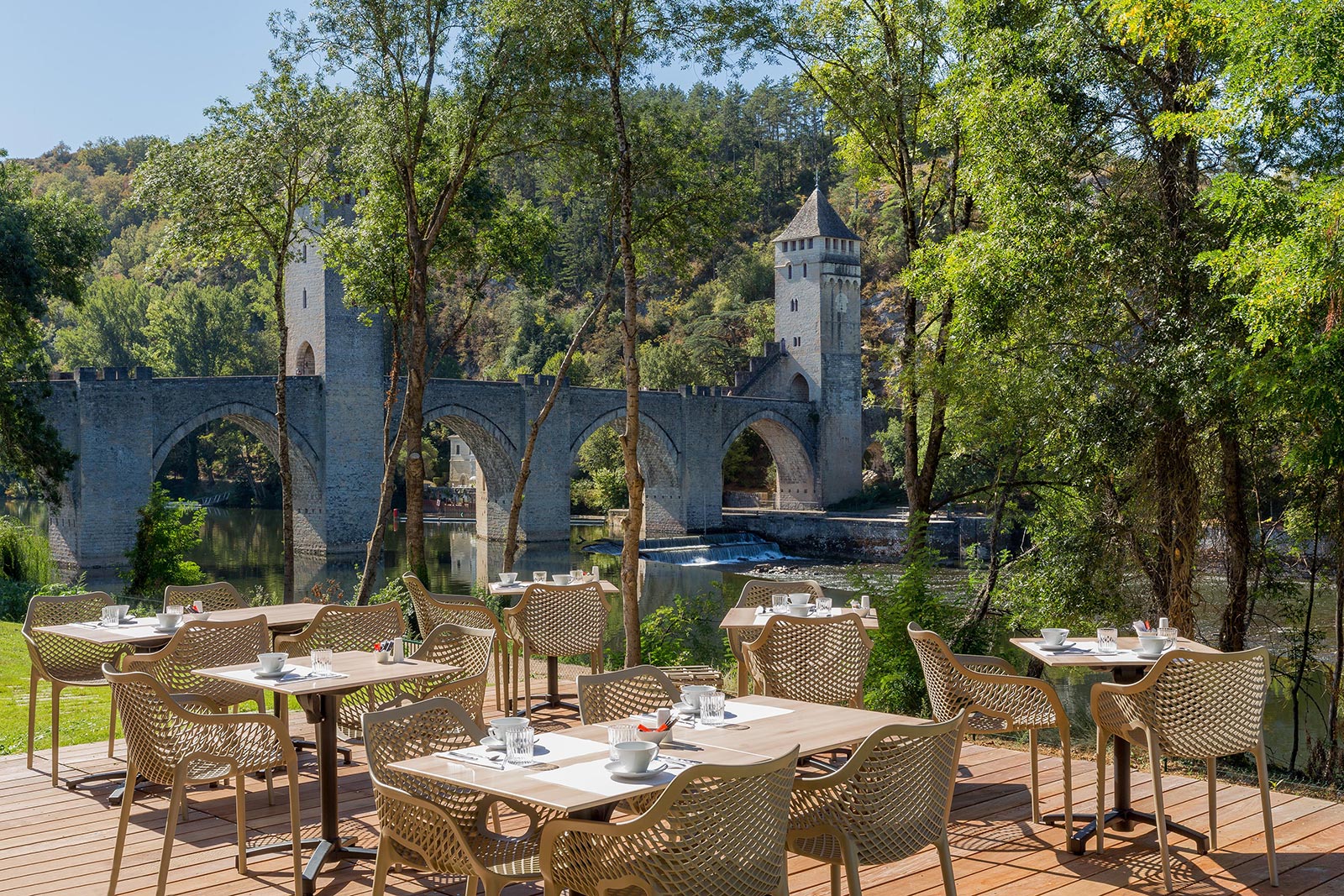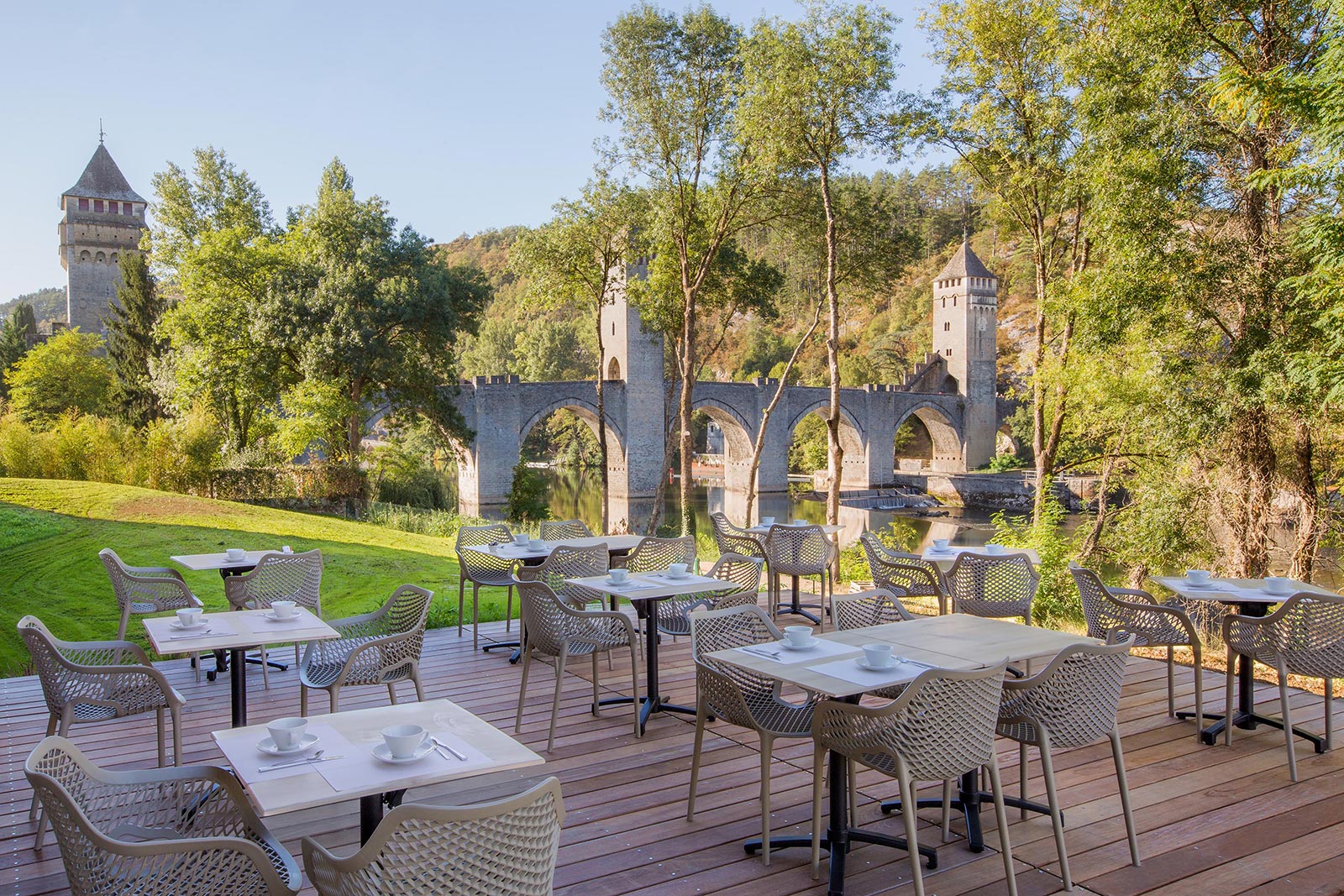 Afternoon Teas
The Divona Lounge Bar also welcomes you from 3 to 7 pm, from Wednesday to Sunday, to offer you a selection of teas, homemade hot chocolates or fresh juices, accompanied with homemade cakes: meringue lemon pie, cakes, chocolaet fudge and frozen chestnuts, perfumed sponge cake with elderflower and gooseberry flavours, scones, apple pie, etc.
Bar Menu
Our bar menu offers a selection of cheese or delicatessen platers, home-made dishes, savoury quiches, etc. : all you may need for a light lunch or diner after a day's work or a day of visiting our region.
Nearby restaurants
A wide choice of restaurants is available just a few blocks away or in the centre of Cahors, which are only a few minutes' walk away and where you can park in the evening. We can advise you about the best possible way to find the address that suits your appetite and your mood.
Room Service
If you prefer a quiet evening in your room, we can also offer you our room-service card, allowing you to compose a light dinner, which will be brought to your room or served at the Divona lounge bar.
Room service is available 24 hours a day.