The Gulf of Padirac is a geological curiosity located in the Lot department, in the town of Padirac. It is the largest chasm in Europe, with an entry of 35 meters in diameter and a depth of 103 meters. Visitors are rowing in an underground river with clear water, through cavities with unreal shapes which are bristling with calcite waterfalls.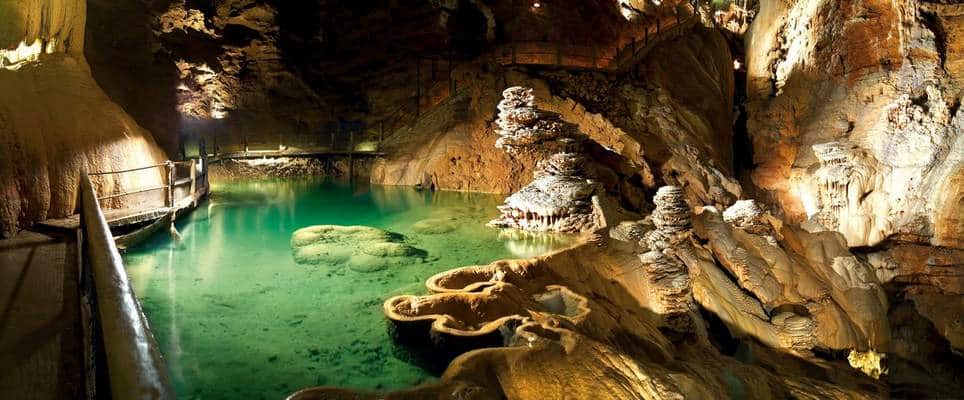 Chasm of Padirac : a natural site structured for tourism intake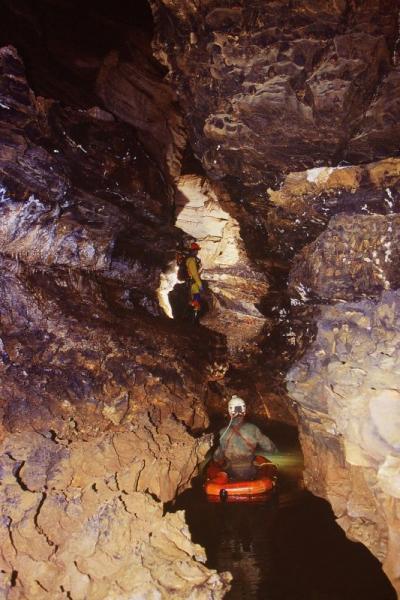 That chasm opens in the Jurassic limestones of the Gramat Causse. It is the result of the cavity roof collapse 10 000 years ago. It served as haven for the local people during the Hundred Years War. In 1889, it was explored by the speleologist Edouard-Alfred Martel. Therefore, it aroused a particular interest thanks to its fascinating attractions, namely an underground river of 20 kilometers, a giant stalactite of 60 meters called the Great Chandelier, the Rainy Lake and the Great Lake Gours.
Since the 30s, an elevator was installed to go down to the underground river. Today, 400,000 people visit the site every year, under the management of the Speleological Company operating the Gulf of Padirac. During high tourist season (summer), you must make a reservation to access it. You also need to be a good storyteller to capture the moments in this abyss, as it is strictly forbidden to take photographs or film. And do not forget to bring warm clothes, because the temperature down there remains at 13°C throughout the year!
The reasons to visit the Chasm of Padirac
Visiting the Cave of Padirac means diving into a fabulous world, which adventurers particularly enjoy. Children and teens who love stories such as "Journey to the Center of the Earth" will find their happiness there. During a 1.5-hour visit, you will go along the river and pass through a maze of cavities which are much more impressive than what we see in movies.
When arriving at the Rainy Lake, you will have the opportunity to admire the Grand Chandelier. In the cavity called the Hall of the Great Dome, you will be amazed by the multitudes of concretions and calcite cascades adorning the roof which is more than 90 meters high. You will pass by the Lake Gours, characterized by a series of dams, before ending the visit with the Lake Superior, with its alabaster basin and its concretion forming a "stack of plates". It will be an unforgettable experience!