Cahors Blues Festival and "Lot Of Saveurs" Festival in July
Cahors, a town of art and history of the Lot department, is famous for its medieval heritage but also for its vibrant cultural life. In a town famous for its wine, foie gras and truffles, it is quite normal to have a Gastronomy festival: the "Lot Of Saveurs" which takes place in July. The same month, culture enthusiasts also have the opportunity to attend another festival but a music one this time: the "Cahors Blues Festival".

Cahors Blues Festival: the event for music lovers
The Cahors Blues Festival, held every year around the French national holiday, is the appointment for Blues and Jazz lovers in the Lot. This is the oldest festival of its kind in Europe, having been founded in 1981 by two music lovers, Gerard Tertre, a lawyer from Cahors, and Bernard Madec, a native of Cahors living in Bordeaux. If the first edition was organized on a voluntary basis, without financial aid, now, the event has gained a significant notoriety since it has seen great artists, namely Ray Charles, James Brown, BB King, Nina Simone, The Blues Brothers, Popa Chubby and Buddy Guy.
This international cultural event held during summer offers quality programs trusted by thousands of fans coming from all over France and other European countries. Between paid and free evenings, discover young local and regional talents and recognized artists, including Shakura S'Aida, Taj Mahal, JC Brooks & The Uptown Sound, Eric Bibb & JJ Milteau, Sugaray Rayford, etc. For four days, you are entitled to outdoor concerts and an evening basking in an atmosphere of the Mississippi Delta.
Lot Of Saveurs: the event for gourmets
"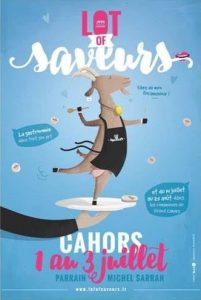 Lot Of Saveurs" is a fairly new festival since it was established in 2009 with the aim of honoring the strengths of the Lot department, including gastronomy. The event takes place in early July in the city of Cahors, the capital of the department, and gathers certified local producers, top chefs from the Lot, writers, traveling performers (outdoor acrobats) and photographers. This popular, festive and creative event includes a farmers market as well as food prepared by chefs, tastings, banquets, cooking competitions, shows, etc.
You will thus discover the richness, beauty and taste for Lot gastronomy through culinary literature, fine art, cooking classes and recipes from chefs. You will find the main features of French food tradition thanks to a nice dinner characterized by gourmet products and friendliness. You will have the opportunity to taste Rocamadour cheese accompanied by a Cahors Malbec wine glass, black truffle, melon of Quercy, Quercy farm lamb, etc.