Cénevières Castle is one of the most beautiful Renaissance monuments in Quercy, in the Lot department. Overlooking the Lot valley, this splendid 13th century building is a major tourist attraction in the town of Cénevières. Today belonging to the De Braquilanges family, the site is open to the public and allows visitors to discover keep, frescoes, galleries, hall with painted ceiling, etc.
Special features of the Cénevières Castle ?
The construction of this architectural wonder lasted about seven centuries, since it was begun in the 9th century by the famous lords La Popie, the family behind the name of Saint-Cirq Lapopie's medieval village. It is dated from the 13th century, as that was the time when the castle was actually built. When the building became the property of the Gourdon's in 1580, the castle was transformed into a Renaissance palace. Since 1793, the De Braquilanges family owns the place and is responsible for maintaining this historical monument and to perpetuate its extraordinary history.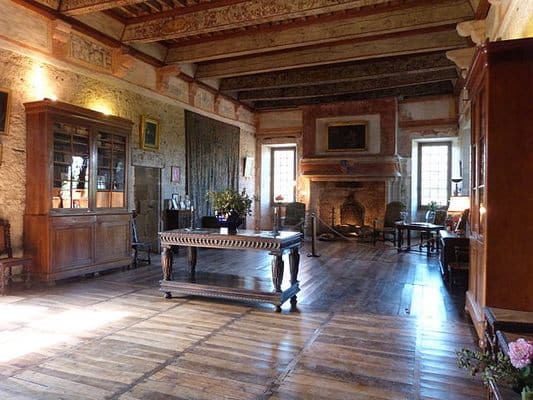 It is a heritage whose priceless historical value was recognized officially in 1957. You can visit the hall with painted ceiling representing views of Constantinople, the alchemy room, the guard room, the keep, the old kitchens, the dungeons and the chapel, the frescoes in the different rooms, etc. The special feature of this site is that tours are led by the lords of the castle themselves!
How to visit the castle ?
The De Braquilanges, the owners of the castle, play the guides between April and December, and introduce visitors to their castle. They tell the story of their home and explain the art features that adorn the rooms to the public with a lot of passion. If you're lucky, you will hear lively stories told by the Marquis. The son and his wife, for their part, organize pleasant tours in costumes during summer nights. The exterior illumination creates a magical setting for a romantic evening!
For an hour, you will be immersed in a wonderful world and will travel through time! From the terraces, you can admire the beauty of the Lot Valley! You also have a picnic area for lunch in an exceptional environment. A coach parking is available to those who like to travel with their vehicle. It is also possible to organize weddings, baptisms, seminars, meetings and other events!